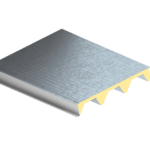 KS1000 X-Dek™ XD IPN
72.00 € per 1 m2
Kroki zamawiania:
Wybierz kolor panelu, który chcesz zamówić.
Jeśli chcesz wybrać inny kolor tego samego produktu, dodaj wybrany produkt do koszyka i rozpocznij nową konfigurację dla nowego koloru.
Istnieją ograniczenia długości produktu, o których należy pamiętać. Jeśli potrzebujesz pomocy na dowolnym etapie, daj nam znać!
Istnieją ograniczenia długości produktu, o których należy pamiętać. Jeśli potrzebujesz pomocy na dowolnym etapie, daj nam znać!
High-quality panel system KS1000 X-dek (PIR IPN) for flat roofs with trapezoidal profile is intended for all building types where the roof pitch is not lower than 0.5°. The standard external coating is hot-galvanised steel sheet, and the internal layer is polyester (PEI). Other optional coatings are available in the data sheet.
Additional information
Dimensions and weight
Materials
Quality and warranty
Download

Panel weight
Core thickness – d [mm]
Metal sheet thickness
[mm]
Total thickness – D [mm]
Panel weight

[kg/m²]

type XD
type XM
type XB
type XG
80
0,9
188
20,52
16,13
14,88
14,78
1,1
22,80
18,43
17,22
17,12
100
0,9
208
21,46
16,85
15,56
15,46
1,1
23,74
19,15
17,90
17,80
140
0,9
248
22,92
18,29
16,92
16,82
1,1
25,21
20,59
19,26
19,16
Available thickness range
The standard panel length is 3.0 to 13.5 m. They can be cut shorter on site. The maximum available custom length is 15 m (oversize cargo transport to the site). Please contact our Customer Service regarding longer panels.
Cut back
All X-dek panels have a factory-made cut back in the internal trapezoid sheet. The standard cut back length is 50 mm; the maximum length is 630 mm.
Always specify the cut back side in relation to roof placement when placing an order.
External shell
Galvanised steel sheet, class S350GD + Z180 or S350 + Z275 on request. Substrate for protective coats type: Substrate for protective coats type polyester, PVDF Spectrum™. The standard steel thickness is 0.9 mm, 1.1 mm on request.
External shell variants by panel type KS1000 X-DEK™
XD – 0.7 mm galvanised sheet steel, minimum class S220GD + Z275 profiled (minibox).
XM – waterproof PVC film, standard thickness 1.2 or 1.5 mm on a textile substrate. Standard light grey colour.
XG – TR27 glass fibre substrate for PVC or EPDM roofing (fastened to internal sheet or glued over the entire surface)
Insulated core
Rigid IPN closed-cell foam insulated core. The insulating foam is safe, has a zero ozone depletion potential, and contains no CFC/HCFC (hard or soft freons).
Sealing
The long joint is factory sealed. All joints have factory-applied PE foam condensation tape.
During installation, apply butyl sealing tape to the free long corrugation and a vapour barrier seal to the cut back on the transverse joint.
Quality
Kingspan insulation composite panels are made of top quality materials using the latest manufacturing technologies. They conform to strict quality control requirements and ISO 9001:2015 standards. Durability and reliability guaranteed.
Warranty
Kingspan's warranty is granted for each project separately, taking into consideration the specific environmental conditions at site and the selected coating type.
Disclaimer
Although we publish information provided by Kingspan on its websites assuming they are accurate, complete, and true, you should not make your decision in particular circumstances based on them. Any advice, opinions, information, or other content are published on the websites with the proviso that Kingspan, its employees, and authors of the websites are not liable for any damage resulting from the use of the information from the websites.
Acts of law, regulations, standards, ordinances, certificates, reports, and other legal documents are subject to change. Should you need additional and valid information, do not hesitate to contact Kingspan's technical department.